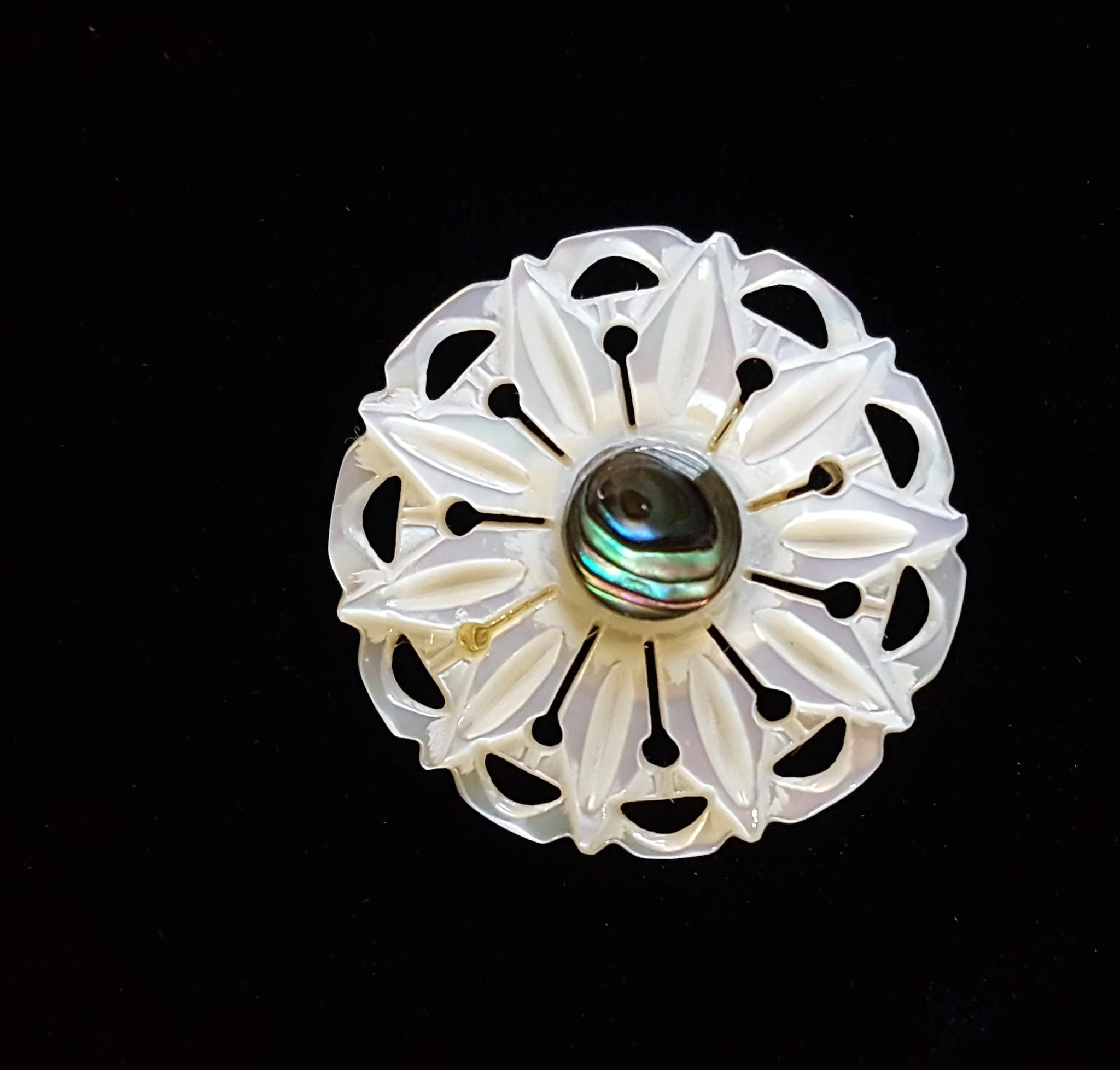 THE MATRIARCHAL GEM OF THE JEWISH PEOPLE
The mother figure is well-denoted throughout the biblical scriptures as one to be cherished, revered, and respected above all. Disciplinarian, warrior, nourisher, and life bringer, the female role is one of strength, resilience, and progeny via lineage and heredity—one who is loved and treasured as such.
Something as honored as the gemstone affiliate represents this: the Mother or Pearl. From the Hebrew name for pearl, the precious stone mother of pearl is known as Margalit and is today's name by etymology; Margaret or Peggy.
The holiest of all mothers, of course, is symbolized as the virgin Mary, mother of Jesus, but there were many who begat the matriarchal echelon as well. Those considered to be among the highest stature within the Jewish faith are:
Sarah, the wife of Abraham; mother of Isaac.
Rebekah, the wife of Isaac and mother of Jacob and Esau.
Rachel, the wife of Jacob, who then begat Joseph and Benjamin.
Jochebed, wife, and aunt to Amram and mother of Moses and Aaron.
Hannah, the mother of Samuel.  
While the many ancient civilizations and associated world cultures, among the most respected and oft ascribed symbols for good luck and prosperity, is the Mother of Pearl, and it is said that those who wear it or display it in the feng shui tenet will attain some form of wealth.
Seahorse Mother of pearl Brooch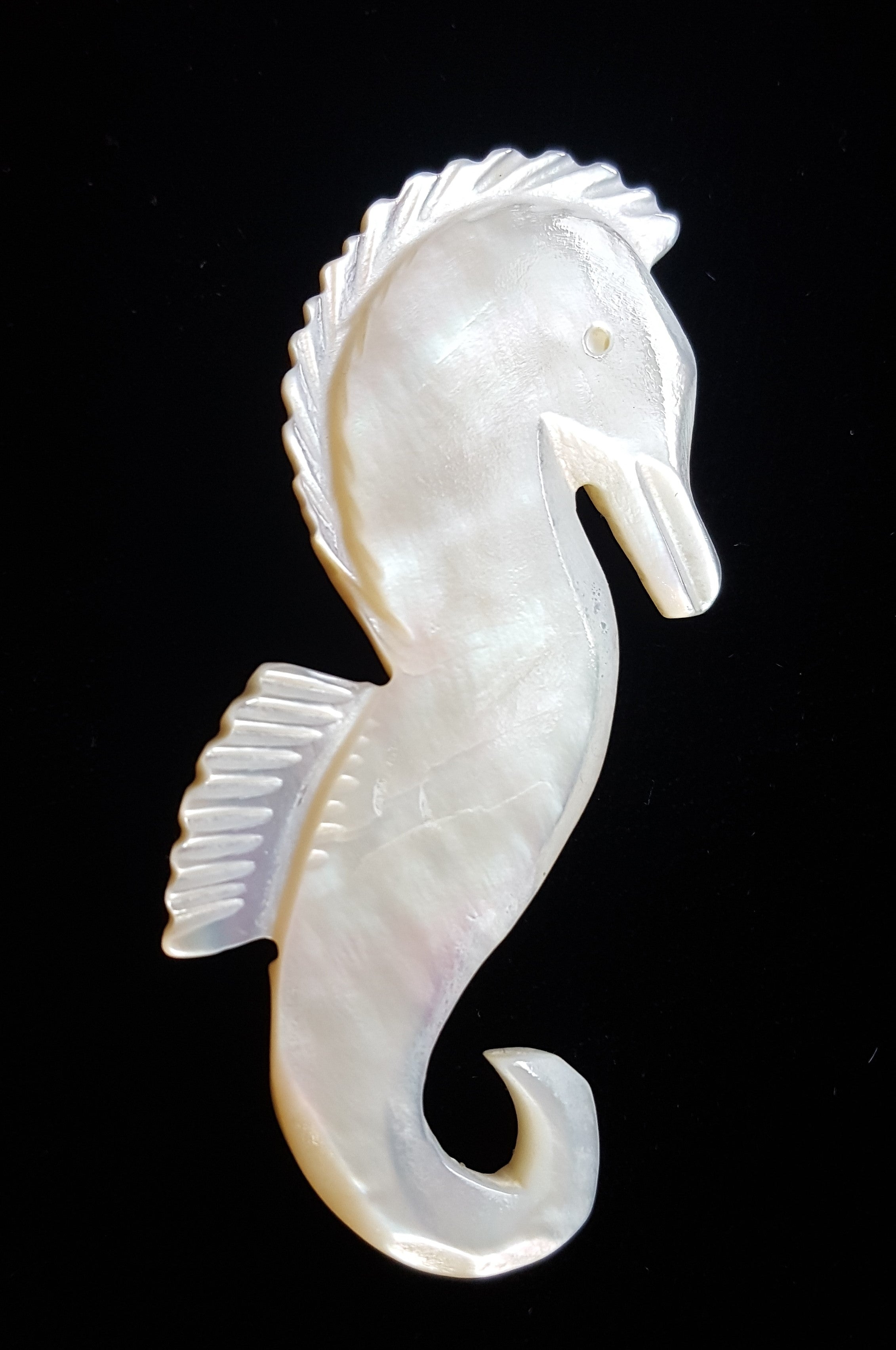 Size: 2 inch or 5.5cm
$7.00 USD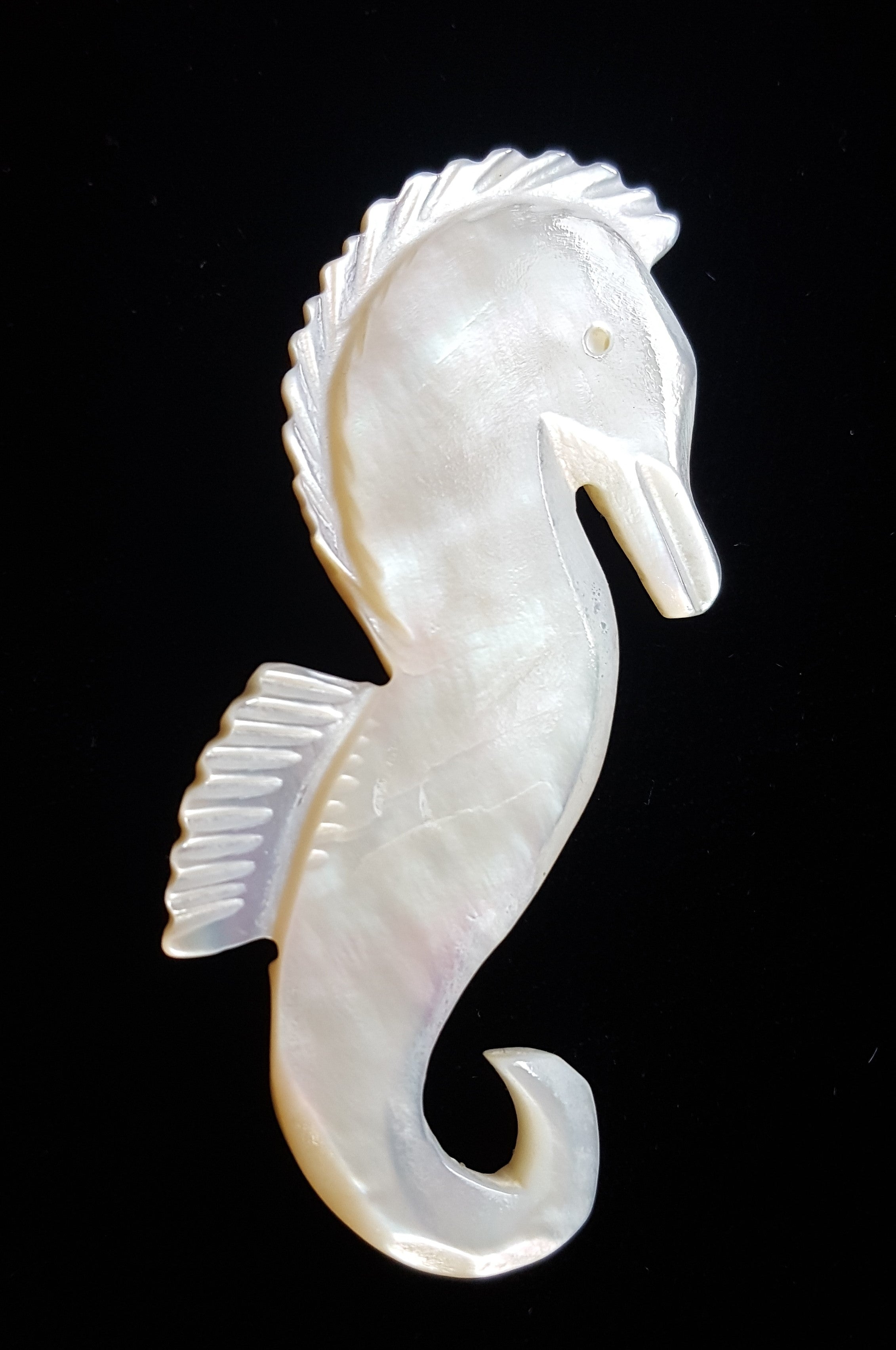 The inlay of the pearl's nacre is an aesthetic embellishment found in musical instruments, jewelry, and home decorations and adds a distinct unique finish to every surface. It is strong and durable but also brittle and can be chipped at or scratched if not properly handled and protected, all properties that add to its overall value and meaning. 
This can be a defining reason why Jesus is purported to have said in Matthew 7: 1-6; 
"Do not give dogs what is holy, and do not throw your pearls before pigs, lest they trample them underfoot and turn to attack you." This proverbial quote means: don't give something of great value to one who will not appreciate or is worthy of it.
Now, the mystery behind what defines the Mother of Pearl can be yours to give, share, display, or revere. From delicate hair combs to shawl broaches and pendant pins, Jerusalem Exports prides itself on bringing the holy land to the world via the hands and detailed craftsmanship of its studio of artisans.
Hand Made Jasmine Petal Rosary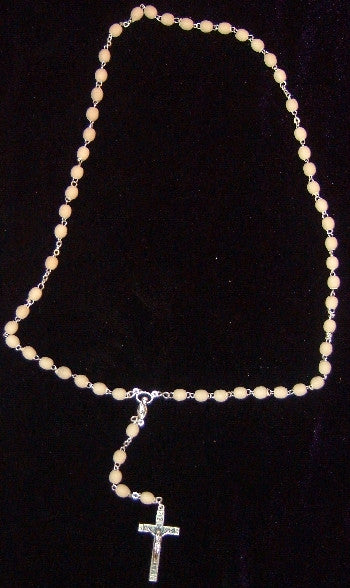 These Rosaries are made from Jasmine Flower Petals. The petals are crushed, cooked, and molded to form ? inch beads. The Rosary is 19 in long. The loop portion is 13 inches long.
---
$19.95 USD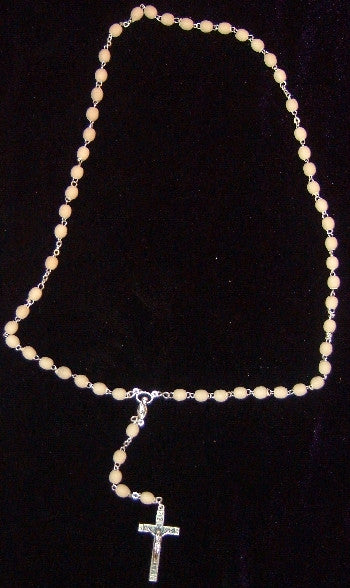 Men, women, and children of all ages would be pleased and honored to own a cross or a symbolic dove-in-flight pin. Superb gifts to celebrate any occasion and suitable for every lifestyle and religion, you'll want to pick out more than one piece. To view our stock of extremely affordable selections, visit us online or contact us at 978-401-4715 or toll-free 1-877-439-3643. 
While on-site, feel free to browse through our other gift collectibles and decorative gift assortments from oils to olive wood depictive carvings, unique three-dimensional ornaments, and, of course, more revered statues, crucifixes, and holiday-themed decor and inquire about additional savings and upcoming sales or promotions. Let our family welcome yours and share our world through the holy word.